Concerts
The Vivian Major Robinson Classical concert series
Throughout the year, Kilburnie partners with the Lancaster County Council of the Arts to bring classical music in the form of concerts to Lancaster. Check this page regularly for the latest concerts being planned.
15th Vivian Major Robinson Concert
Featuring New York Trombone Quartet
the Guidonian Hand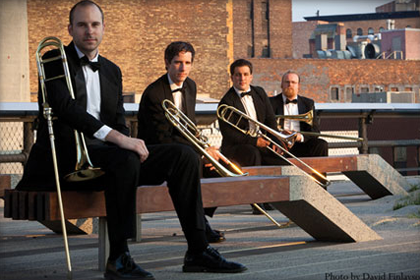 Sunday, May 22, 2011
2:30 p.m.
Historic Craig Farm | Free Admission
For more information on the concert click here to download the concert flyer. 
The concert series is held in memory of Vivian Major Robinson, a well-known local musician whose devotion to classical music and music education impacted many students in Lancaster County. The series is designed to appeal to the whole family and help stimulate interest in classical music for all ages. An intermission allows the audience a chance to meet and chat with the performers.
The series is underwritten by an endowment to the Lancaster County Council of the Arts.